One legendary week
This is the flagship, weeklong summer camp adventure in Estes Park for children nationwide between the ages of 8-18. Children's Hospital Colorado partners with Cheley Colorado Camps in Estes Park, Colorado for this week. By providing an enriched camp experience, anchored in the Cheley philosophy of fostering genuine character and belief in the ability of young men and women to act spontaneously in the right, the program creates the opportunity for survivors to share their stories and push themselves beyond what they thought was possible.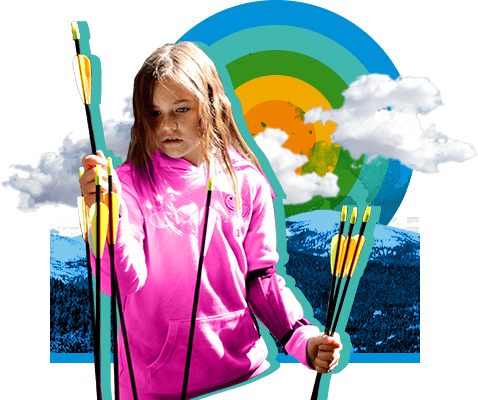 A lasting impact
Campers are challenged to look inward, connect with new and old friends and to create a community of peer support that lasts long after the week of camp has ended. Days filled with mountain climbing or biking, creating projects in the wood shop / craft center and stories around the dinner table all teach campers that there is no limit to what they can do. The week's activities help campers find a genuine fulfillment, peace, and confidence within themselves that prepares them to face whatever may turn up when they return to their worlds back home.
ACTIVITIES
hiking
mountain biking
camping
challenge courses
horseback riding
mountain climbing
fishing
crafts
archery
riflery
swimming
What to expect
The campers are grouped into cabins based on age and gender. They spend the week in this communal environment being responsible not only for themselves but also for the well being of their cabin mates. Living in this community setting teaches ownership, confidence, and responsibility. The younger campers travel as a cabin group for the majority of the week while the older campers are given more choices about participation in a range of activities. All of the older campers attend a three-day, overnight experience—backpacking, mountain biking, or a horse pack trip.
The camp is set-up with a scope and sequence so that returning campers are continually challenged with new physical and reflection activities. Each night closes with a campfire activity that brings all the participants together to reflect on the day, sing songs and bring the day full-circle.
The Children's Hospital Colorado Burn Camps Program is a proud member of the American Camp Association (ACA). They accredit over 2,400 camps who meet up to 300 standards for health, safety, and quality programs. Our Summer Camp program is an accredited Colorado camp of the ACA. All of our other camp programs follow the ACA guidelines for health, safety, and quality programs.